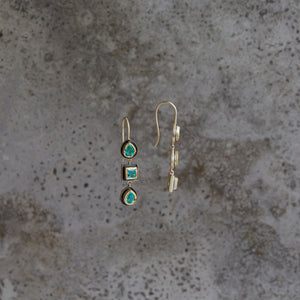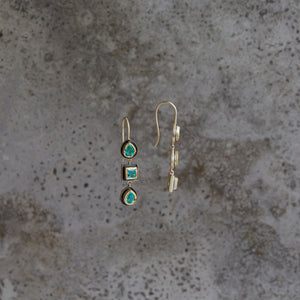 わかばえ K18 emerald with enamel drops
みずみずしく艶やかな… エメラルドの新芽。
鮮烈な青竹色を放つエメラルド。ペアシェイプとプリンセスカットの石をランダムに連ね、左右非対称のピアスに仕立てました。石の周りは、24金にタガネで起伏を入れることで味わい深い質感に。段差をつけ、周りに漆黒のエナメルを流し入れました。古代の宝石のようでいて、アール・デコの香りも漂わせる、華やかなピース。


Heritage Gems
今そこに、地上に既にある資源を活用することが真のサステナビリティ。その信念より、古い宝石から取り外した貴石を用いています。日本では、代々受け継がれるべき貴重な宝石が手放され、廉価で取引され、海外に流出しています。そういった事実が認知され、貴い宝石とその背景にある文化を永く大切にする心が広まることを願っています。
Fresh and lustrous ... Emerald sprouts.
Emeralds that give off a bright green bamboo color. Randomly lined pear-shaped and princess-cut emeralds to create asymmetrical earrings. Around the emerald, 24K gold is undulated with a chisel to give it a tasteful texture. Set on stepped shape, jet-black enamel was poured around. It is made into a gorgeous piece that looks like an ancient jewel and has the scent of Art Deco.
Heritage Gems
The true sustainability is to utilize the resources already on the ground now. Based on that belief, we use precious stones removed from old gems. In Japan, precious gems that should be passed down from generation to generation are released, traded at low prices, and leaked overseas. We wish that these facts will be recognized and that the spirit of cherishing precious gemstones and the culture behind them for a long time will spread.
K18YG, K24YG, emeralds
Sold as a pair.
total length:34mm / width : 6.6mm / thickness:3.3mm
Handcrafted in India.