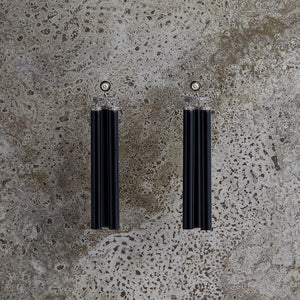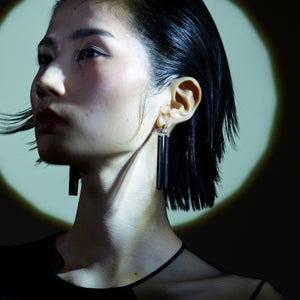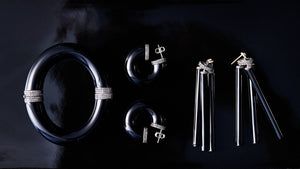 たまのうてな Japanese urushi with pave diamonds earrings
雅な漆黒の… 秘めやかな宮殿。
伝統的な木製漆器の製法で、ひとつひとつ丹念に塗りあげられた漆。桂の木を用いています。自然の恵みと高度な職人技による、艶やかな品格漂う佇まい。丸い筒状のカフにパヴェのブラウンダイヤモンドをあしらい、まるで東西の芸術が融合したかのようなピースに仕立てました。

Japanese urushi
石川県加賀市にて、約4ヶ月の期間をかけて制作していただいています。原木から木地を挽き、下地工程を経て、下塗り、中塗り、上塗りと漆を塗り重ねていきます。塗ったまま研磨せずに仕上げる「ぬりたて」という手法を用い、すべての工程を手作業でおこないます。長い年月を経て、これからも受け継いでいくべき大切な日本の工芸技術。
Elegant jet-black ... A secret palace.
Wooden lacquer ware is carefully painted one by one using the Japanese traditional method, using Katsura tree. With the blessings of nature and advanced craftsmanship, it has a lustrous appearance. Three stick-shaped lacquers were hung on the circle-shaped parts. The pavé brown diamonds and white dew stud earrings on the top to create a piece that looks like a fusion of East and West art.
Japanese urushi
It takes about 4 months to produce in Kaga City, Ishikawa Prefecture. The wood is ground from the raw wood, and after the base process, the undercoat, middle coat, top coat and lacquer are applied repeatedly. All processes are done by hand using a technique called "Nuritate (means freshly-painted)" that finishes without polishing as it is applied. Important Japanese craft techniques that should be inherited over the years.
silver925, wood, diamonds
Sold as a pair.
total length:68mm / width:12.5mm
Handcrafted in Japan and India.